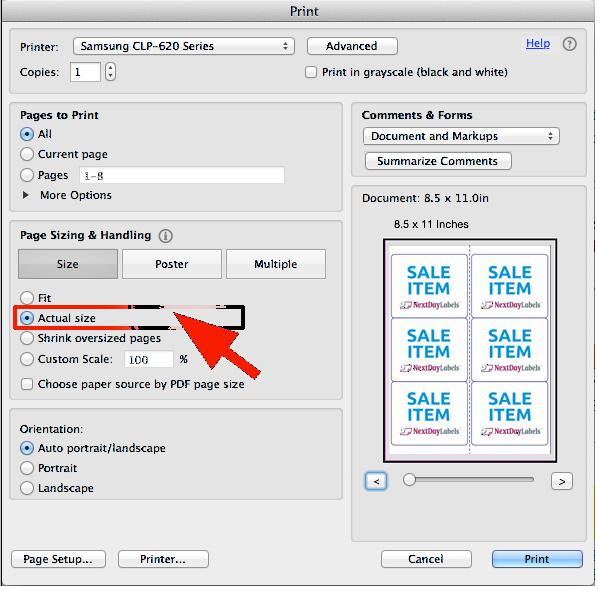 TEST PRINT
When printing on our Labels / Cardstock, we don't want you to lose paper, we would always suggest you first print a test print to determine if your prints are on the correct side of the printer and to make sure the print comes out the way like it.
DON'T EDIT THE TEMPLATE: The template given to you is measured to fit the labels perfectly. By editing it you could mess up your entire work and your labels won't print correctly.
Common PDF Issue and Their Solution:
Why Don't PDFs Print at the Same Size as the Original?
Make sure that when printing your project as a PDF file, you'll always have selected 'Actual Size' and never fit to Page. Otherwise your page won't print properly, and it won't be the size that you wanted it to be printed.
If you followed the above instructions and you still have difficulties printing your project, Next Day Labels is here to assist you. Email us or Call Us and we will gladly help you find the issue why you are having problems.
★ Open your print properties dialogue box and check the following:
Page Size is set to 8.5 x11 (Letter Size) and not A4 or any other size.
★ Page Scaling is set to None or Actual Size (Not fit, or scale)
Two most common issues why your template and labels don'd align!